Integrate Bubble.io with WhatsApp using 2Chat plugin
Learn how to use WhatsApp inside Bubble.io using the 2Chat plugin to add a click to chat button, send WhatsApp message and more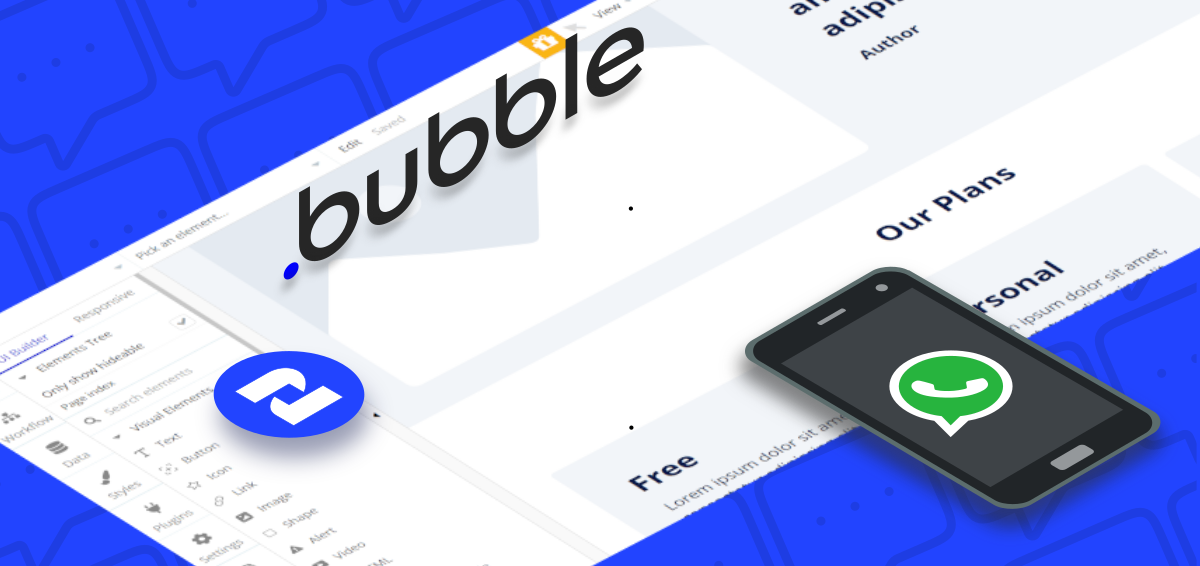 Bubble.io is a web development platform that enables individuals and businesses to create web applications without prior coding knowledge. Using a drag-and-drop interface, users can design user interfaces, create logical workflows, and manipulate databases, all in a visual, code-free environment. The platform provides a broad range of templates and plugins, allowing developers to implement complex functionalities without writing code from scratch.
Use cases for Bubble.io span various industries and needs:
Creating MVPs (Minimum Viable Products): Entrepreneurs and startups use Bubble.io to swiftly build functional prototypes of their product ideas to present to investors or to validate concepts in the market without investing in intensive software development.
E-commerce Application Development: Users can create customized e-commerce platforms, managing product catalogs, handling orders, and processing payments efficiently.
Educational Platforms: Educators and trainers can design online learning platforms, incorporating functionalities like courses, exams, and discussion forums.
Business Process Automation: Companies use Bubble.io to create internal applications that help automate operational processes, such as project management, customer tracking, or human resources administration.
Social Networks and Online Communities: Developers and entrepreneurs can build social networks or community platforms that allow users to interact, share content, and connect with each other.
Customer Portals: Companies create personalized portals for customers to manage their accounts, view relevant information, and communicate with customer service.
Event Applications: Event organizers can develop applications to manage registrations, provide event information, and interact with attendees.
Bubble.io has emerged as a valuable tool for rapid development and proof of concept, allowing individuals and organizations to bring their ideas to market or implement internal solutions efficiently and cost-effectively.
Using 2Chat with our Bubble.io plugin
This plugin lets you integrate your existing WhatsApp or WhatsApp Business  into your Bubble.io no-code app using your 2Chat accound and your API Key. After installing the 2Chat plugin and set the API key you could access the following features:
Send and receive text and multimedia messages for individuals and WhatsApp groups.
Check if a number has a WhatsApp account.
List WhatsApp Groups and their participants.
Create and update products and collections in your WhatsApp Business catalog.
Install a floating WhatsApp button on your site. This feature doesn't require a 2Chat account. You could learn how to do it in the following video.
You can also use 2Chat features from your Bubble workflows, you could learn how in the following video